It's a New Year which means a new you, or so the saying goes but please don't let cliches put you off actually making some positive changes in your life this year.
Whether you're looking for how to think more positively or just to enjoy the little things in life, in this age of self-improvement, there is a book out there for you. It might even be in the ones listed below.
I've selected 19 self-help, self-development, self-improvement (whatever you want to call them) books to help find your zen in 2019. Some of them I've already read and are Jess approved, others I've just seen, heard about or discovered while researching and would like to read in the future.
If you have read any of these books, share your comments below!
My first "self-help" book bought for me by my best friend for Christmas when we were just starting life after high school.
We both bought a copy with the plan that we would gift it completed the following year. We never got round to finishing it, but it comes with me through every move, just in case I decide to dust it off and drag it through a puddle like a dog (one of the tasks).
Though not a traditional self-help book, it definitely inspires you to take things a little less seriously.
My husband bought this for me for Christmas, I also bought it for my friend for Christmas and my other friend when she left her job.
Essentially it's a book about historical women and how they kicked ass and how modern day women should take note. As a history buff, this is a book I'm excited to start.
This is more of a three in one as all of these books are written by the same person, Sarah Knight. I've only read The Life-Changing Magic of Not Giving a F**K, which loosely makes the point that by doing what you want you will essentially be more happier.
That, of course, sounds pretty obvious but the book also details various scenarios you might find yourself in life, like being asked to go to a baby shower of a person at work you don't really like. If you don't even like them why use up valuable f**k givings when you could save them for things you have to do like visiting every living relative at Christmas.
I'm guessing that the other two books are fairly similar.
I bought this book for my husband who struggles to take joy in the little everyday moments. Small Pleasures is full of small pleasures (surprisingly) which we should take time to appreciate and enjoy before going about our busy day.
I really love this book, it might be one of my favourite self-help books because it doesn't just tell you how to "live your best life". It asks you to complete 52 easy lists about your life such as – make a list of the things you've worked hard for.
You know when you flip through photos of a holiday long forgotten, and you are reminded how beautiful it was and head straight onto Skyscanner to book your next holiday? Well, this book helps you find those feelings again. So simple, yet an effective way to feel good.
Similar to 52 Lists for Happiness.., though slightly longer, gets you to write little things about yourself and your life.
This book is designed to get your creative juices flowing by drawing out past experiences and people from your past, present and future. Maybe a best-selling book could be born from it, at least that's what I'm hoping for!
I bought this for my husband and as a stocking filler but it actually has some pretty good points, like "love yourself first". Solid advice from a cat.
I guess this book isn't a traditional self-help book but I definitely think it's helpful in putting things into perspective, or at least it did for me. My husband bought me this book (as he seems to do with all my books) when I was feeling blue and jaded while living in London.
The book is an essay written by up and coming writer, Marina Keegan who died in a car crash days after graduating. She had a job lined up at the New Yorker and her play was selected for a stage reading at the New York International Fringe Festival. Her life, which she never got to live is a preserved, idyllic dream life.
So no matter how good your life is, it could end at any moment. So my take on the book was not to spend my life worrying about what I don't have or when I will have it but to take pride and joy in what I have accomplished and to enjoy the journey of achieving goals.
These books I haven't read but would like to, either because they've sparked my interest or because they look fun. If you've read any of these and would rate highly, or lowly of them – let me know!
Essentially a Magic 8 Ball for book lovers. You ask a question, flip to a random page and it will tell you the answer. I haven't tried it yet but I think it could be the basis of all my major life choices.
I am very intrigued to read this one next as seems to outline problem-solving solutions through statistical analysis and diagrams. People say you can't be logical and creative, but I definitely am 50/50. I love books, but then I also love a good graph.
The author, John Parkin teaches his "F**k it" mantra at a retreat in Italy after blowing off a top job in London. Whether he regrets that decision who knows but it was a brave thing to do and whoever has that kind of balls deserves to be heard.
Everyone has heard of The Little Book of Hygge, about getting that warm fuzzy feeling? Well, Lykke means happiness and seeing as Denmark is the happiest place in the world they probably have a trick or two up their sleeve and I for one am fascinated to find out what they are.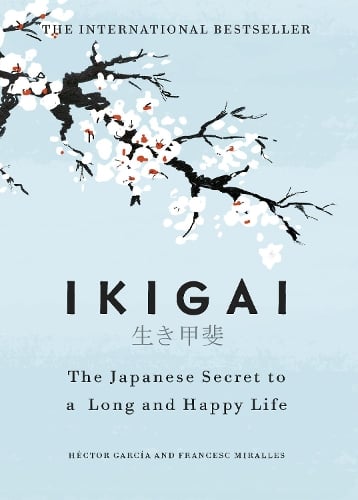 Ikigai is Japanese for "a reason to get up in the morning" (not a literal translation), and considering Japan is home to the world's longest-living people it's probably in their best interest to find a reason.
I struggle to get out of bed in the morning but no because I'm not happy, or at least I don't think, but let's see if this book has an effect!
I wouldn't say that I really need this book as I feel pretty confident in my life skills. It would make a pretty good gift for my brother though who is struggling with the prospect of being a "real adult" (he's 21). I think this book would help him realise that it's not that bad once you get going and can actually be quite fun!
After all, he's going to be an adult for a long time so he might as well get to grips with it.
I guess this isn't really classed as a self-help book, so I'm cheating a little here but I do think that having happy life experiences helps you become happier and to find out what makes you happy in life – or at least it did for me.
I think this book would be great for someone that didn't know what they wanted to do but just knew they wanted to do something. It's a good jumping off point for finding the next adventure you didn't think you wanted.
A thrilling concept! The idea of saying no to someone makes me feel very uncomfortable, I'm a self-confessed people pleaser and rarely say no, even if it puts me in a jam.
Finding happiness in disappointing people seems a little odd, after all, there was a whole film about saying YES so how can doing the opposite make you happy?
I guess the concept is similar to Sarah Knight's book, The Life-Changing Magic of Not Giving a F**K in that only say yes to things that will bring you happiness. If it doesn't then don't do it.
Harsh but attention-grabbing, which is why it made it into the list.
It also made it into the list because The Dalai Lama called the author "one of the greatest thinkers of the age", so he should have some good thoughts to share.
The book guides the reader on life's journeys and how to deal with them and is reviewed by one on Goodreads as "life-changing".